This page is our gallery for news, updates and photographs of Trust dogs that came into our care and have been successfully rehomed.
We're very proud of our family of dogs and we love to keep in touch with them, receive updates and see photographs of them enjoying their new lives.
We hope you all enjoy this page as much as we enjoy knowing we have some really lovely, happy dogs in their forever homes and if you have adopted one of our dogs please send us an update and some photographs so we post them on our gallery.
A special thank you to all our supports and to everyone who has adopted our dogs and is giving them a wonderful life.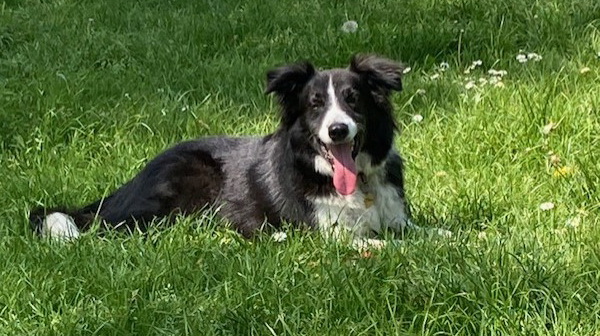 Moss
Moss was adopted four years ago and is still handsome now as he was then. He loves his life going on holidays and visiting dog friendly hotels and pubs – don't we all, bless him. We love it when we get photos and updates of our adopted dogs.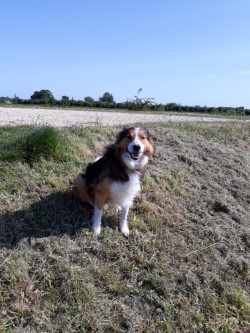 Tyne
This lovely old lad is called Tyne and was over ten when he was adopted. He came to us as a retired working dog ready for a soft bed and warm hearth. He is now adopted and is having a great live walking, getting lots of attention and is a very happy lad.
Meet our dogs for adoption
Before deciding on having a Border Collie, you need to ask one question, "How much of myself am I prepared to give?" Border Collies are very intelligent and sensitive and providing time for a game with a ball, a half hour walk or a weekly training session is not enough, they need to be part of your life. Taking a dog into your home is a big responsibility and the more information about the breed and its requirements you have, the easier it will be to understand your dog.
If you are considering applying to give one of our Trust dogs a home you may need to be prepared to spend at least one day, and possibly two, with the dog you have chosen to make sure you are certain he or she is right for you. This will also give us the opportunity to assess you both together and to help you to understand each other.
We do not insist you become involved in any dog activity or go to training classes. But we do need to know that you are dedicated to the welfare of your dog, can provide a calm and secure home and are prepared to put in the time needed initially to get know each other.
Gary is just under two years old and is under assessment. We will update him…